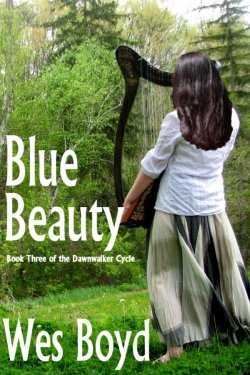 Blue Beauty
Part III of the Dawnwalker Cycle


a novel by
Wes Boyd
©2004, ©2009, ©2012





Chapter 32

September, 2001
Frank Oldfield brought a couple of yellow legal pads with him on the day after Labor Day, when he checked into the Spearfish County Jail. He knew he wasn't much of a writer, but at least he could get his thoughts straight and take some notes. Afterwards, he'd have time to find a ghostwriter, sit down with him, and pull it together. He'd seen a lot of bodies buried in the country music business over thirty years, and he knew where most of them were.
The fact that his two prior DUI arrests had been in another state, and twenty and twenty-four years before didn't cut much ice in the courtroom. The judge had been out of town back there in early July when the cop pulled him over, so it took three days to post bond. In that time he'd talked to a local attorney, who informed him that while he could make a stink about it, the fact was that he'd blown a .15 in the breathalyzer, and that Judge Dieball was death on DUIs. With two priors there was no way he was going to avoid doing time. Frank hadn't liked that news one bit and got his attorneys down in Nashville working on it. After throwing more money away on them than was needed, their conclusion was much the same as the local attorney: get used to it -- you did the crime, now you do the time.
Ultimately the local attorney was able to get Dieball to put off the start of his time for a while in exchange for a guilty plea, so he could get his business affairs lined up to be gone for sixty days. That had been about the best anyone could have done, Frank conceded unhappily.
But rather than getting things organized, that put the icing on the cake. His position at Nashville-Murray had been shaky when he'd come to Spearfish Lake -- it was why he'd come in the first place. Profits were down, the guys in New York had been looking for someone to blame, and he was the obvious candidate.
Under the circumstances he might have been able to withstand the DUI, even the sixty days -- but then, the series on Jenny Easton in the Tennessean started running. It ran for a week, and almost every day was nothing but bad news when he read it, causing the acid to rise in his stomach. Then each day the phone calls would come from New York, asking for an explanation of this, why he couldn't do something about this continual trashing of the company. What was that going to do to profits? They'd even been upset about the story of the quadriplegic girl who Jenny and Blake had working for them -- a tearjerker like that just added credibility to the series, and to Jenny's charges.
And, a lawsuit over unpaid residuals? What was that? As far as Frank knew, there was nothing illegal that he'd done. Oh, there were some things about residual payments and charges while he'd been there that might have been called into question by a sharp attorney, but nothing that another sharp attorney couldn't have been able to justify. But God knew what Monagan had done . . . even Frank thought he'd been a slimy bastard. Jenny charging that he'd paid a kickback to Knox to get her to renew her original contract, well there was some truth to that, although he figured it would be pretty hard to pull out of the books. He couldn't say whether Knox had actually raped her or what, but from having known him Frank wouldn't have put it past him.
That wasn't the worst of it, even then. As soon as that charge hit the papers, there had been some other people in the industry who felt free to talk about some of the things that had been done to artists by Nashville-Murray. There was only so much that could have been done about that, considering the charges in the Tennessean, which had started hitting the street before he knew about it. He might have been able to soft-pedal the entertainment section of the paper, but these stories were coming out of the investigative section of the city department, which Frank had noticed had grown several more teeth over the past year. But it was far worse than just the Tennessean; it seemed like every media outlet in the country had smelled blood, and when they looked for it, they found it.
He was even being beaten on in the sports sections and the NASCAR press! Who in hell would have thought . . . some dumb hick driver lost his sponsor, so what? But, Nashville-Murray's trying to tear down the sponsor's career had made it financially impossible for her to continue the sponsorship, the story said.
Still, he figured it would have been a flash in the pan, a three-day wonder at most. It was the kind of thing that could have been ridden out; he'd ridden out unfavorable press before, even worse than that, far worse. But those bastards in New York had been looking to throw him to the wolves. It was an adequate excuse. They'd sent down some bozo from New York who thought he knew how to run a business. Frank wished him well, trying to deal in a dirty, competitive industry with people from New York aiming knives at his back with every move he made. In the last days before he'd driven up here in the old pickup he kept around the house for chores, he'd cleaned out his Nashville-Murray stock since he knew it was going to take a nosedive. He would have liked to sell it short but under the circumstances, he didn't figure he could keep close enough control on it. Bank interest rates were skanky right now, but he'd deal with that when he got out.
So, he'd been out of a job when he checked into the jail the week before, but he was amazed to find himself pretty philosophical about it. Though it would be an enforced decompression, it was none the less a welcome one. The thought of retiring had crossed his mind more than once in the last year or two; now, he would. He'd figured out that if he could manage to keep his costs under control and live a little frugally he could make out just fine. The big house in town was for sale; the Lexus was already gone. There were a lot of things to figure out yet, but he had sixty days to figure them out. The book would help -- a real exposé of what went on in the business ought to sell, he thought, and besides he might be able to stab those bastards in New York in the back for once, rather than the other way around.
It wasn't bad being in jail -- at least this jail -- he thought as he lay on the upper bunk, staring at the ceiling. It was only about half full, and most of the people in there were pretty decent when sober. It wasn't like the hoods and homeboys who filled the jail in Nashville; this seemed almost like a country club by comparison. Oh, he had to get up and mop floors early in the morning, but the exercise and activity were welcome. There was a friendly young kid from the local paper who came in every other morning or so; she usually had a joke for him, and he usually had one for her. The sheriff's daughter usually ran the call desk five days a week; a nice enough woman, married with two kids, and they usually had some friendly words, too.
As far as that went, Matti, his cellmate, was a pretty decent guy, too, even if he wasn't real bright and talked in some goofball northwoods accent he had a hard time making out. He was doing time for a DUI too; in his case, it was a sixth offense, and he was doing six months. Frank figured it wouldn't be his last.
About the only complaint that Frank had was that Matti had a small color TV with him, and that thing ran all the time. It made it a little hard to think about making notes for the book, and he hadn't made a lot of progress. But it helped him pass the time, and he'd spent a lot of time sitting down on Matti's bunk, watching the talk shows and what not. Just yesterday, they'd caught an interview with Jenny Easton -- well, the reporter had called her Jennifer Walworth -- on Hollywood Tonight of all places, and shot right up here at her home. Really, it was a very mild version of the Tennessean story, and Frank didn't get even mildly upset at thinking about all the times he'd tried to reason Jenny into doing a similar interview. He realized that she was trying to distance herself from Nashville-Murray, and now that he was on the same side of the fence he was trying to do the same thing. More power to her. His only wish was that there was some way he could tell her that.
"Yumpin' Yimminy, look at dat, ey!" The exclamation from Matti in the lower bunk pulled him out of his reveries a little.
"What's up?" Frank said, rolling on his side to look down at the little TV on the floor. It had a tiny screen, and he couldn't see it well, but he could see smoke pouring out the side of a tall building.
"A plane yust flew inta dat World Drade Zender in New York," Matti said. "Ya'd tink dat dey could see somethin' like dat, yaah!"
"Son of a bitch," Frank said, sitting up and sliding down to the floor. He sat there cross-legged, looking at the TV. "That'll give the newscasters something to talk about for a while."
"Ya edder been dere, Frank?" Matti asked.
"Yeah," Frank said quietly, realizing that it was the north tower he was looking at. The hit was fairly high up . . . "I've been there."
They sat there watching for a while, not saying much. All of a sudden, they were watching the screen, when like millions of other viewers they saw another plane appear out of the side of the screen and crash into the south tower.
"Eye don' tink dat was no acciden'," Matti said quietly.
"Me either," Frank agreed.
They sat there watching, unable to take their eyes from the tiny TV. By now, there were stories of people jumping from the high levels of the north tower to certain deaths on the streets below. Frank had a sinking heart as he watched, thinking private thoughts, thoughts that he didn't want to tell Matti. They were watching a young CNN reporter, a good-looking redhead, describe the chaos, when all of a sudden the camera panned upward to the unbelievable sight of the south tower collapsing on itself. Slowly, inexorably it crumbled, leaving a huge cloud of thick smoke. They heard the reporter yell, "Marty, let's get out of here!" They could see that the camera stayed on as the crew frantically ran up the street and ducked into a doorway; then the camera looked outward, at an immense cloud of dust and smoke rolling down the street. A few minutes later, CNN came back to the reporter, still on camera, still trying to describe the story, no longer a pretty redhead. She was covered in dust and dirt, and in spite of her professional manner they could see the clean spots on her cheeks where the tears had run down her face. Not long afterwards, they were still watching as the north tower joined its sister in a pile of rubble on the ground.
Frank and Matti continued to watch for hours, unable to say much of anything. Along in the afternoon, Frank couldn't take it anymore. He crawled back into the top bunk and turned his face to the wall, the incredible scene still in his mind. It burned there like fire, as thoughts rolled through his mind.
His book no longer seemed important -- but those thoughts he'd had back in the spring about a little bluegrass niche label were still with him, and strong now. He could think of many worse things than being under a canopy at a mountain music festival on a hot summer day with the blue southern sky overhead, selling CDs out of a box, while the wonderful sounds of the old-time music filled the hot summer air. He'd get out of Nashville, too; his home town back up in the hills seemed pretty good to him, especially this afternoon of all afternoons. He still knew people there, good, honest people, and he could live comfortably pretty cheaply. It was beginning to sound pretty idyllic.
Finally, he knew there was one thing he had to do. He pulled one of his yellow pads to him, and through tear-stained eyes began to write:
Jennifer and Blake:
I hope you will accept my most sincere apologies, for I owe you more than I can ever repay. Not long ago, I was scheduled for a series of meetings today far up in the north tower. Right now, sixty days in the Spearfish County Jail is looking awful good to me. Thank you for saving my life.
-- Frank
---
<< Back to Last Chapter
Forward to Next Chapter >>
---

This work is licensed under a
Creative Commons Attribution-Noncommercial-No Derivative Works 3.0 United States License.
---