Reader Comments
about
Wes Boyd's writing
"The characters are so well written that they feel real . . . I look forward to yet another good read when I notice that you've completed another story."
"You have published a series of tales that have grasped my heart and wound back the clock on my memories and my life. They have been extremely valuable to me as nuggets of a life long gone, and of lives which I wish I had."
"I find your style of writing very refreshing! Please keep it going - the personal interest implicit in each story is what makes them so great!"
"I admire your way of fleshing out the characters - giving them life instead of merely portraying masks."
"Your entire Dawnwalker series has been delightful. Reading initially for pleasure, your series quickly became a lesson from a fine craftsman. I've learned much but the reading pleasure never waned."
"Your stories never disappoint me, or let me down. I enjoy them all -- they are 'Feel Good' Stories!"
"I continue to enjoy your writing and you keep getting better at it. Thanks so much for your time and genius."
"Your characters, settings and story lines seem so real that I feel you are letting me peek in on a part of life that I'd have otherwise never known anything about."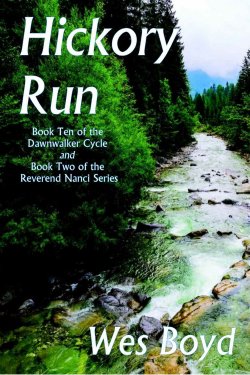 Hickory Run
by Wes Boyd
©2015, ©2017



While attending seminary, young woman minister and Colorado River boatman Rev. Nanci Chladek becomes concerned with the problems of her suitemate, a shy, withdrawn girl by the name of Sarah Lackamp. Sarah's parents are missionaries getting set to return to their African mission station, so all too soon she will have to live outside of the protection of school and family. Nanci feels her friend isn't ready for life on her own. She does pull Sarah out of her shell a little, but it turns out that Sarah's problems are different and deeper than Nanci could have believed. How can Nanci help Sarah live in the big bad world of today? What changes will Sarah have to finally accept in order to make it on her own? Warning: There is Christianity, faith, and religion in this story.


Approximately 93,000 words (about 190 print pages)


Many Ordering Options!




From the Spearfish Lake Tales Store, through Paypal
---
Spearfish Lake Tales Store downloads are sent by hand, and you do not get an immediate response.
I will fill the order as soon as I can.
RTF and MOBI/PRC files are sent in a .zip file; I can send unzipped if requested.
Don't have Paypal? Don't like Paypal? Contact me and we'll work out something.